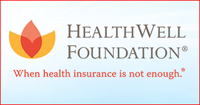 Healthwell opened up a new fund today which many of our members may be eligible for.
It's $250 to help offset the cost of getting deliveries of meds, food, supplies etc. for high risk patients due to COVID-19 self-quarantining.

Here is the link:
https://www.healthwellfoundation.org/fund/covid-19-fund/
They are accepting applications by phone only.
Best wishes to everyone.  Stay Safe!