Maddie's Story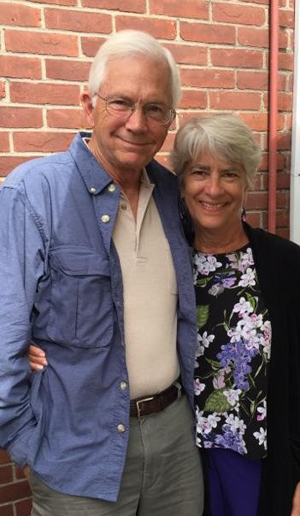 I was diagnosed in February of 2001 at the age of 52.  I had been experiencing some morning nausea and weight loss during the previous six months and attributed both to a set of challenging life circumstances. 
Being a single mother of a young boy, working full-time in a demanding job and caring for my elderly parents who temporarily moved in with me to address some of their individual medical needs seemed explanation enough for why I wasn't feeling myself.  But when I fainted on the job and found myself in the ER, I had a feeling something more significant was happening. 
The ER doctor told me I was anemic and urged me to see a kidney specialist to determine the cause.  Within a few weeks, after a kidney biopsy, the nephrologist asked me to come into his office where I heard his words "You have Multiple Myeloma".  Like many, I was in shock hearing these words, but unlike many, my shock came from having heard this same diagnosis given to my father a few years earlier.  Although my father had been doing well on his Myeloma treatment, the reading I had done in support of him familiarized me with the terribly poor survival statistics of this disease.
Throughout March of 2001, a group of friends along with my new sweetheart, Ames, researched centers of excellence for the treatment of Myeloma. I interviewed doctors in each of the centers and decided to receive my care from Dr. Sundar Jagannath at St. Vincent's Cancer Center in New York City.  I joined my father in a regimen of 40 milligram "pulses" of Dexamethasone (Dex) – 4 days on followed by 4 days off.  My appetite increased and my sleep decreased.  Dad and I had many middle-of-the-night conversations over peanut butter crackers with glasses of milk!  By May, my parents were able to move to an assisted living center near my brother in Massachusetts.  Dad continued to do well with the "new" medication, Velcade, and he felt well right up until the month before he died at the age of 88 in July, 2004.
In July, 2001, I entered the hospital to undergo a Stem Cell Transplant.  I spent 3 ½ weeks as an inpatient and after returning home, I was given Interferon and Prednasone for one year. What a challenging set of side effects these two medications had!  However, combined with the transplant they offered me a seven-year remission.  I lived a drug-free life then, I retired to begin a small business, became active in the school and community life with my son, joined a writing group, started traveling with Ames, began to co-lead the Philadelphia Multiple Myeloma Networking Group (PMMNG) and began to dream of a future.
My first relapse occurred in February of 2008. I was given the Revlimid-Velcade-Dex (RVD)cocktail for a couple of cycles, reaching complete remission quickly.  I continued with the duo Revlimid-Dex (RD) another couple of years, gradually decreasing the Dex dosing.  I again enjoyed a couple of years being drug-free until my second relapse.  I continued to feel good, grew my consulting and coaching business, saw my son graduate from high school, moved to Westchester county in New York to begin a new life under the same roof with Ames, traveled throughout Europe and continued to be active with the PMMNG.
In February of 2013, my second relapse occurred.  I was given the RVD cocktail again for a few months and then continued with RD until the summer of that year.  Like many patients, I was eager to be rid of Dex so starting in the early fall it was dropped from my regimen.  I have continued with a 5 MG dose of Revlimid since then and remain in complete remission.  In February of 2016, I had the Minimal Residual Disease test and was found to have some residual disease despite my maintaining remission.  The plan is to retest in February of 2018 and to continue with the current Revlimid regimen.
If you have read this far in my story, you no doubt have gathered that my long journey with Myeloma has not deterred me from having a full life.  I sometimes believe it has opened my eyes to possibilities I wouldn't have recognized had I not had this tough diagnosis.  I have said "yes" to many things in my life that perhaps would have been met with more caution pre-Myeloma.  Every day I continue to be grateful for the encouragement and support that the members of the PMMNG offer to me and one another. In a surprising yet marvelous way, our common experience with illness has enabled us to build a collaborative, inclusive community.  This experience gives me boundless hope for all of our lives.
---