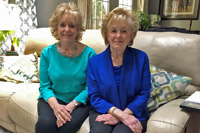 PMMNG members (and co-founders) Marilyn and Sharon Alexander were featured in an April 17 article in the Philadelphia Inquirer. The story explains Marilyn's history with multiple myeloma, Sharon's role as a caregiver for Marilyn, and provides information about our upcoming Miles for Myeloma 5K Walk/Run fundraiser (to be held on April 28).
You can read the inspirational article here.
And Metro published an informative story, also on April 17, about the Miles for Myeloma 5K, featuring an interview with Maddie Hunter. Our Miles for Myeloma PR machine is in full swing! :)
And speaking of the Miles for Myeloma 5K, April 23 is the last day for online registration and to purchase a Tribute Path sign. So if you have not registered yet, get hopping! 
Also we could use more volunteers to help with registration activities and checking in participants on the day of the event. Click here if you'd like to volunteer.