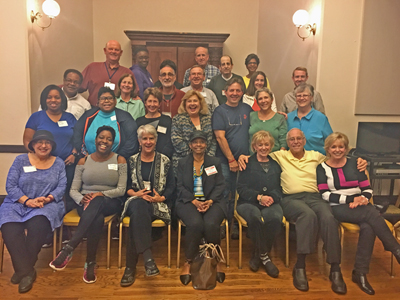 Yet Another News Flash: Nancy Stewart has been named the 2018 Philadelphia Light the Night Honored Hero. For more details check here.
News Flash: Registration for the 2018 Miles for Myeloma 5K Walk/Run is now open!
The event will be held Saturday April 28, 2018 at Memorial Hall/Please Touch Museum in Fairmont Park, located at 4231 Avenue of the Republic, Philadelphia, PA 19131.
If you'd like a sample letter or a poster you can send to friends and family to let them know how to support Miles for Myeloma, please check the attachments at the bottom of this page.
And check the Miles for Myeloma menu items in our menu bar above for more information.
======================================
The Philadelphia Multiple Myeloma Networking Group's (PMMNG) mission is to be an ongoing resource for myeloma patients, their families and friends.
PMMNG Vision
Provide hope to the Myeloma community through education, companionship, compassion, and advocacy while working toward a cure.
PMMNG Mission
Enrich the lives of patients and their families through programs and resources for living with and conquering myeloma
Foster connections and dialogue among members at all stages of the myeloma journey
Open pathways for patients seeking treatment by building and sustaining relationships with area medical centers, national myeloma organizations and pharmaceutical companies.
Provide support for organizations advancing research and financial assistance for myeloma treatment
Advocate for research and legislation regarding effective treatment and quality of life
Who We Are
The PMMNG was formed in 1995, and is a diverse group of myeloma patients, their caregivers and support persons.
From an original meeting around a kitchen table, the founding members led the organization to find more appropriate meeting space, an experienced group facilitator and many more members.
Phil Falkowitz and his wife, Barbara, along with Marilyn Alexander and her twin sister, Sharon, mobilized efforts to include patient education, political advocacy and fundraising for Myeloma research. Meeting notices spread throughout the Philadelphia region and relationships with local cancer organizations were established.
In 1999, the growing group found its current home at the Ralston House. The membership list grew to upwards of 300 members. At present, the PMMNG is affiliated with the International Myeloma Foundation (IMF). The PMMNG is led by a Steering Committee and is known in the region as a safe haven for families dealing with myeloma.
Certainly we wish there were no need for a group such as ours, but we take comfort from the fact that we have been able to reach and assist so many more people than the small group who met more than 20 years ago.
Group Facilitators
Maddie Hunter: maddie@hunterunlimited.com or 732-549-7981
Marilyn Alexander: malex19115@comcast.net or 215-694-4146 
Direct Contact
PMMNG: pmmng1@gmail.com
Medical Advisors
Dr. Edward Stadtmauer and Dr. Dan Vogl,
Abramson Cancer Center, University of Pennsylvania