May 2020 Meeting: Dance Movement for Myeloma with Lynn Falk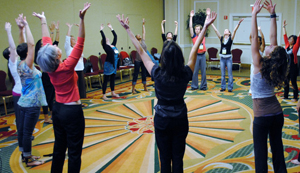 We will be meeting via Zoom again on Saturday May 9  for our monthly PMMNG support group meeting.  Our meeting will feature an interactive presentation by Lynn Falk who is a Dance Movement Therapy intern at Penn Medicine.  Lynn will help us to be together while we are apart in an innovative way.  We will gather remotely again via Zoom.  Please join us from 1:30 - 2:30 PM. 
Check your email for the Zoom invitation for our meeting.  The email was sent Monday May 4. If you have any questions, please contact Maddie Hunter ([email protected] or 732-549-7981).
Note: The slides Lynn used durnig the meeting are attached below.