Marilyn & Sharon Alexander Are Featured in Philadelphia Area News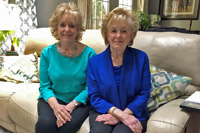 PMMNG members (and co-founders) Marilyn and Sharon Alexander were featured in an April 17 article in the Philadelphia Inquirer.
They also were featured in a story that aired on the 6:00 PM news on April 23 on KYW Channel 3 in Philadelphia.
Both stories explain Marilyn's history with multiple myeloma, Sharon's role as a caregiver for Marilyn, and how they have been instrumental in advocating and raising money for myeloma research. The stories also provide information about our upcoming Miles for Myeloma 5K Walk/Run fundraiser (to be held on April 28).
You can read the inspirational Inquirer article here and view the TV video here.
In addition, Metro published an informative story, also on April 17, about the Miles for Myeloma 5K, featuring an interview with Maddie Hunter. Our Miles for Myeloma PR machine is in full swing! :)
And speaking of the Miles for Myeloma 5K, online registration closed on April 23.  But onsite registration will be available beginning at 7:00 AM on Saturday the 28th.
Also we could use more volunteers to help with registration activities and checking in participants on the day of the event. Click here if you'd like to volunteer.