PMMNG Members Discuss Myeloma for StoryCorps and Blood Counts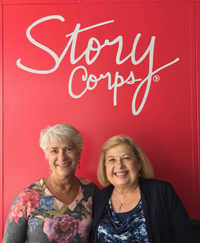 As part of Amgen's efforts to raise awareness about multiple myeloma through its Blood Counts program, Cindy Chmielewski and Maddie Hunter were recorded having a discussion at the StoryCorps pop-up studio in Federal Plaza, NYC on May 8, 2018.  This 40-minute conversation focused on many elements of their journeys with Myeloma including their original feelings about being diagnosed, their coping strategies, the powerful role of the support group in their lives and how Myeloma taught them about vulnerability and being open to uncertainty.  Cindy and Maddie were emotional at times but couldn't resist a good laugh at an overactive GPS getting in on the conversation.
Cindy and Maddie's conversation is available at: https://drive.google.com/file/d/1O0HkXlX9ONFMrR9jJN6uAyaspqCA5c6p/view?usp=sharing.
And a month later, on June 6, Mike Burns talked with his friend of 40+ years, Ed Hansch in the StoryCorps booth. Their conversation included information about Mike's journey with multiple myeloma, but focused on what Ed's friendship and support through that journey has meant to Mike.
Mike and Ed's conversation is available at: https://drive.google.com/open?id=1eXbCSHwBILqLnWrzgVs7DRiuzrtqKG-9