PMMNG M4M Funds Research Grant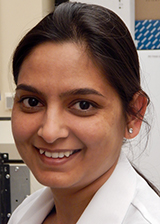 Recently we were notified by Suzanne Battaglia at the International Myeloma Foundation (IMF) that money that we donated to the IMF through our Miles for Myeloma 5K fundraiser has been awarded as a grant to Neelam Bhardwaj, Ph.D., a multiple myeloma researcher in Salt Lake City, UT. Dr. Bhardwaj is in the Hematology / Oncology department at Huntsman Cancer Institute / University of Utah.
Here is information about her research:
Project Title: "Generation and validation of a monoclonal antibody against VISTA for the immunomodulatory therapy of multiple myeloma"
Abstract (layman): Multiple Myeloma (MM) is a blood cancer, which in most cases still remains incurable. The immune system can play an important role in controlling tumor growth and even lead to cures. In particular, the use of checkpoint inhibitors has shown remarkable clinical results for patients with solid tumors by improving the anti-tumor response of the patients' own T cells. We propose to develop a novel checkpoint inhibitor antibody targeting VISTA, an immunosuppressive protein overexpressed in patients with MM. We will use state-of-the-art technology to develop this antibody and validate its therapeutic potential for the treatment of MM.